Gillard: On the Road to Recovery
The catastrophic 2003 forest fires in Kelowna, BC wrecked havoc on the infamous Gillard mountain bike trails.  Over the past ten years, the road to recovery has been long and extensive, as the local mountain bike community has come together to help rebuild this once legendary trail network. The destruction of the fire left the trails littered with logs and debris and also burned the majority of the wooden stunts that had been installed.
---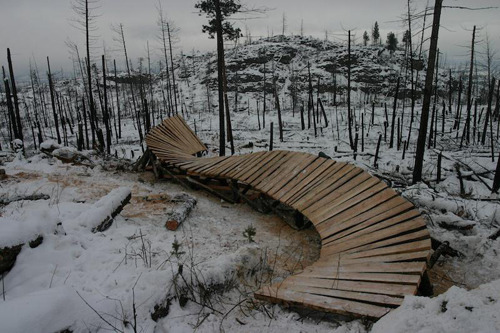 Various organized and independent efforts over the years have cleaned up and rebuilt this lost tail network, arguably making it better than before.  The advanced technical trails combined with the transitional wooden stunts require advanced downhill and freeride mountain biking skills in order to safely to descend the rugged terrain.  Now that the trail network has been reinvented, bikers from all over can once again enjoy this elaborate trail system as it continues to grow and improve.