North Shore: Year Round Mountain Biking
The North Shore mountain bike trails outlying the suburbs of metro Vancouver offer some of the best downhill and cross-country mountain biking that British Columbia has to offer.  The surrounding local mountains: Cypress Mountain, Mount Fromme  and Mount Seymour make up this comprehensive trail network that contain numerous natural challenges that have gained international fame.
---
The old-growth Red Cedar forests situated on the steep terrain create a unique style of riding that incorporates natural and man-made features.  Ladder bridges and teeter-totters are required to navigate through the abundance of fallen logs, giant boulders, and intricate root systems.  The steep and slippery terrain combined with these man-made features create a very challenging and unique style of trail riding sometimes referred to as "North Shore" riding.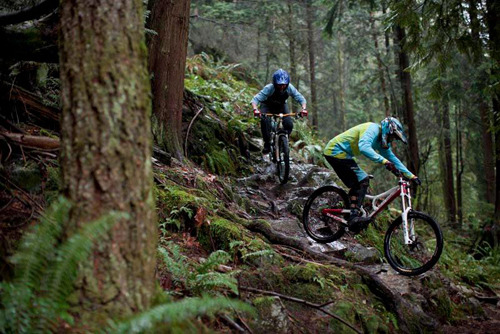 Coastal British Columbia's unique climate enables mountain bikers to ride throughout most of the year, as a lack of snow leave the majority of trails ride-able even in the winter.  Next time you are feeling a case of winter depression, a trip to the North Shore trails might be just the cure that you need to keep you going until the Spring.