TBS Bike Parts Customer Reviews
We appreciate all of our customers and are always grateful for any positive reviews we receive. We always strive to offer great pricing, fast shipping, and exceptional customer service, and we are truly thankful whenever our customers acknowledge this and leave a positive review. Here are some of the great things our customers have said about us over the past year: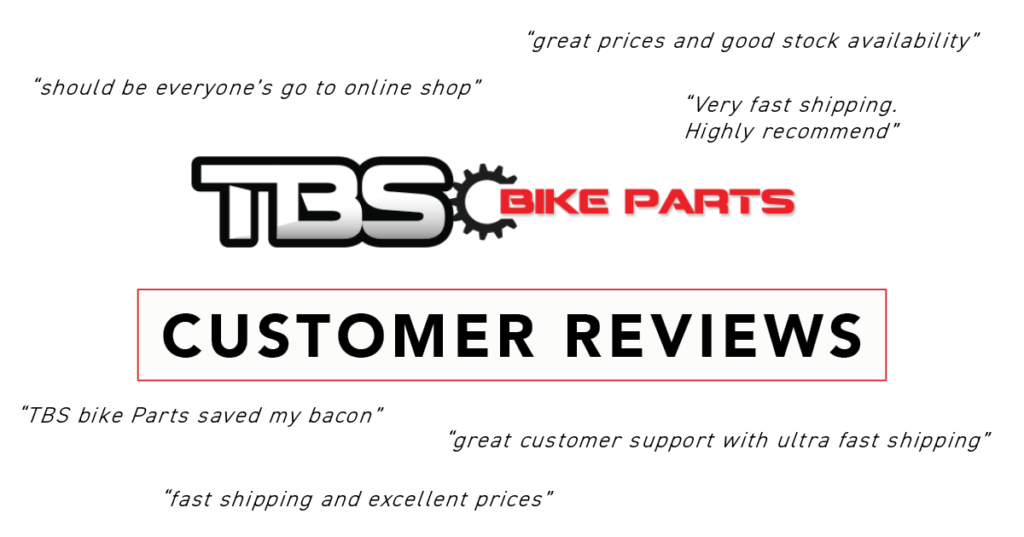 TBS Bike Parts Customer Reviews
---
"This is my go-to shop for tires and other small parts, and have been buying from these guys for a few years. Great prices, often better than other major online retailers. As a Canadian, this eliminates the guessing game of hidden import fees. Shipping is incredibly fast, and free if you top your order to $150."
- Dustin
---
"Been ordering from TBS bike parts for many years now and love that they are Canadian, offer great customer service, fast shipping and excellent prices. Don't have to deal with customs and brokerage fees and did I mention how fast the shipping is? I've saved a lot of money ordering drive trains, saint brakes and various tires for all the different bikes I own."
- Ora
---
"Awesome... super fast shipping, great prices and good stock availability. I'm a repeat customer for sure! Thanks for keeping my bike dialed."
- Jeremy
---
"I've ordered from TBS a bunch of times. Each time the order is processed in a timely manner and subsequently shipped quickly. The staff and support are responsive and ready to answer questions or concerns. Great to have an online bike parts retailer in BC with good access to parts and pieces to keep me rolling!"
- Manuel
---
"I have ordered from them several times and the price is always great. Shipping is fast to your door with great customer service."
- Adrian
---
"Best prices around, by far. Shipping speed is incredible, the parts are in the mail incredibly fast. TBS has a solid, well deserved reputation, and they live up to it every time. Not a sponsored review, these guys are just the real deal"
- Kyle 
---
"TBS is a great place to buy online bike parts!! Fast service and shipment. Ordered place on Sunday evening and parts and tires were in my hands on Wednesday! And parts and tires were priced affordable. Have always had this same type of service every time."
- Lee
---
Thank You
Thank you to all of our customers for the kind words and support! The positive reviews we receive are greatly appreciated and mean a lot to us. We wouldn't be able to do any of this without our customers and are very grateful for the trust they have in us to get them the parts they need to keep on rolling. If you have ordered from us and are satisfied with your purchase, you can leave us a review here. However, if you are not completely satisfied with your order, please email service@tbsbikeparts.com and we will make it right.
Looking for new mountain bike parts? Take a look at our full selection here. Remember that we offer free shipping on all orders over $149CAD in North America. Spend less and ride the best with TBS Bike Parts.