Maxxis Tires – The Complete Guide to Everything Maxxis
Like most tire brands, Maxxis uses a lot of technologies that all have their own special names. It can be a very confusing for the average mountain biker, so let's dig in and figure out what everything means.
Before we start, you can shop our wide selection of Maxxis tires here at incredibly low prices. If you have a bike shop or a lot of riding buddies and want to purchase over 10 tires please contact Dylan@tbsbikeparts.com and he can help you place a larger order.
By far our most popular tire we sell is the Maxxis Minion DHF 27.5 x 2.5" 3C and the Maxxis Minion DHR II 27.5 x 2.4 3C.
A lot of our customers have asked us to stock more DH tires and we feel the new Maxxis Assegai tire is the best downhill tire on the market. Available in both 27.5" and 29er options.
Now let's get started!
Basic Tire Construction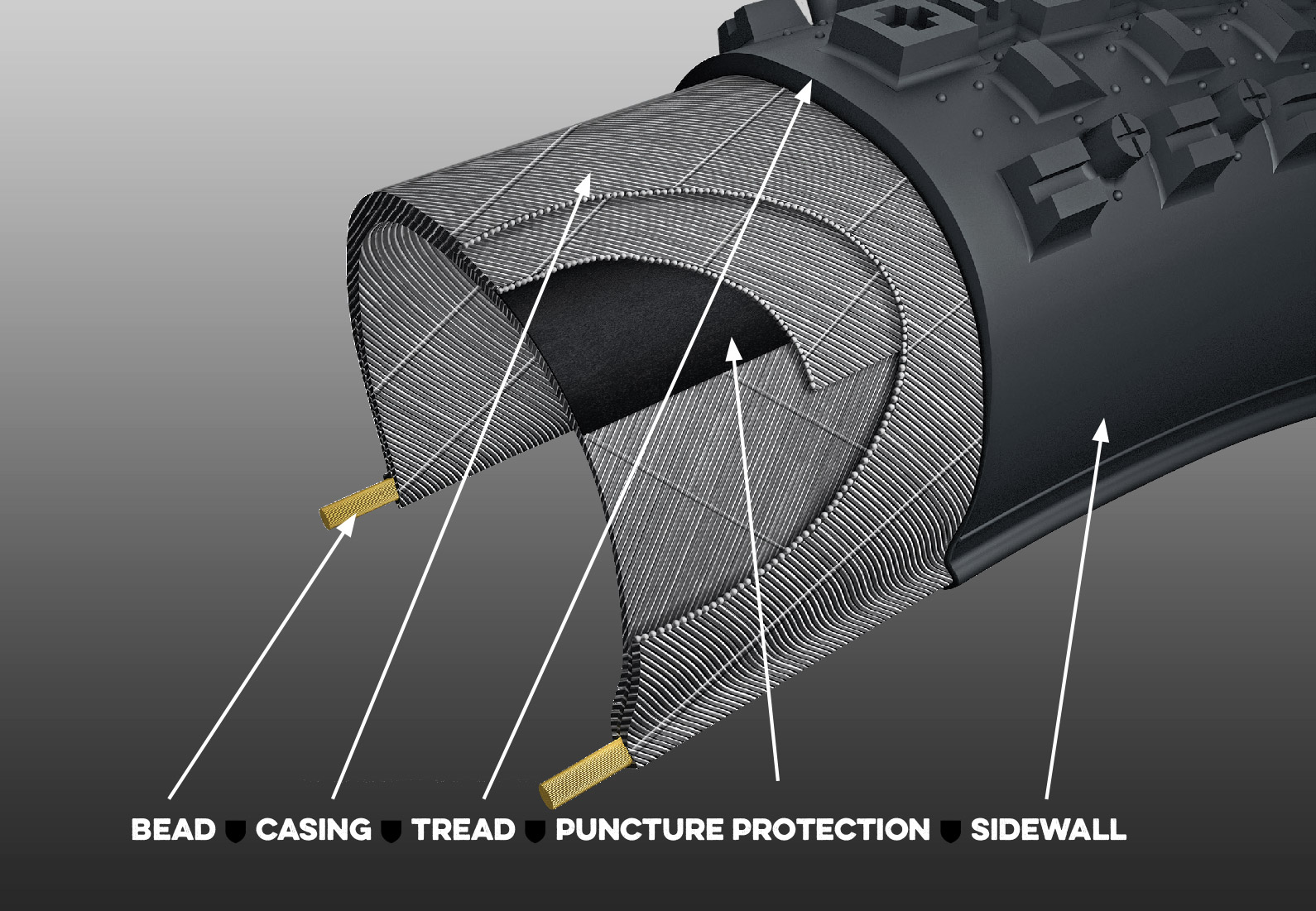 There are 4 main elements that form a tire. The bead, the casing, the tread compound, puncture protection, and of course the sidewall. Let's look a bit deeper at each of these.
The Bead
This is the part that locks into the rim when inflated. The different versions of bead that Maxxis make are:
Wire Bead - This is the cheapest and heaviest, but also the most robust. While technically not a Tubeless Ready bead, because the wire inside is quite stiff they are actually very easy to make tubeless.
Kevlar Folding - Also known as a folding bead, as the tyre is foldable. Kevlar beads are more expensive to manufacture, but save a good chunk of weight and are still very tough. This is not a tubeless ready bead and we don't recommend trying.
TR Kevlar Folding - (TR stands for Tubeless Ready) This is the same as the kevlar folding, but the rubber around the Kevlar is shaped in such a way that it creates a seal against the rim when inflated. TR tires need to run a liquid sealant to ensure they remain tubeless.
LUST - Lightweight Ultimate Sidewall Technology is Maxxis' take on UST (Universal Standard Tubeless) tyres. LUST is actually used to classify both the bead and the casing, but we'll just focus on the bead for now. A UST bead is much the same as a TR Kevlar Folding bead, except the bead is shaped in such a way that it matches in perfectly with a UST specific rim. This set up is so solid, you don't need any tyre sealant to make them tubeless. This system has largely been replaced by TR now, as the TR tires are significantly lighter.


Casing
This is the carcass of the tire and refers to everything from bead to bead, except the tread. There are quite a few different versions of casing available from Maxxis, as it is largely responsible for how much a tyre weighs and how tough it is.
Before we get into the different types of casings, we should talk about another technical term called TPI (Threads Per Inch). Most Maxxis Tyres are either 60 TPI or 120 TPI. The higher 120 TPI casing is lighter, thinner and will be able to better conform to the shape of the terrain. However, the 60 TPI casing is more resistant to puncture, abrasions and cuts. The different tires of casings are (in order from lightest to heaviest):
Single Ply - One compound throughout the tread optimized for longevity and performance.
EXO - An extremely cut-resistant and abrasion-resistant material added to the sidewalls of select mountain tires. This densely woven fabric is also lightweight and highly flexible, ensuring that the performance of the tire remains unaffected. Choose EXO Protection for exceptionally rocky, treacherous trails where the chance of sidewall cuts and abrasions is high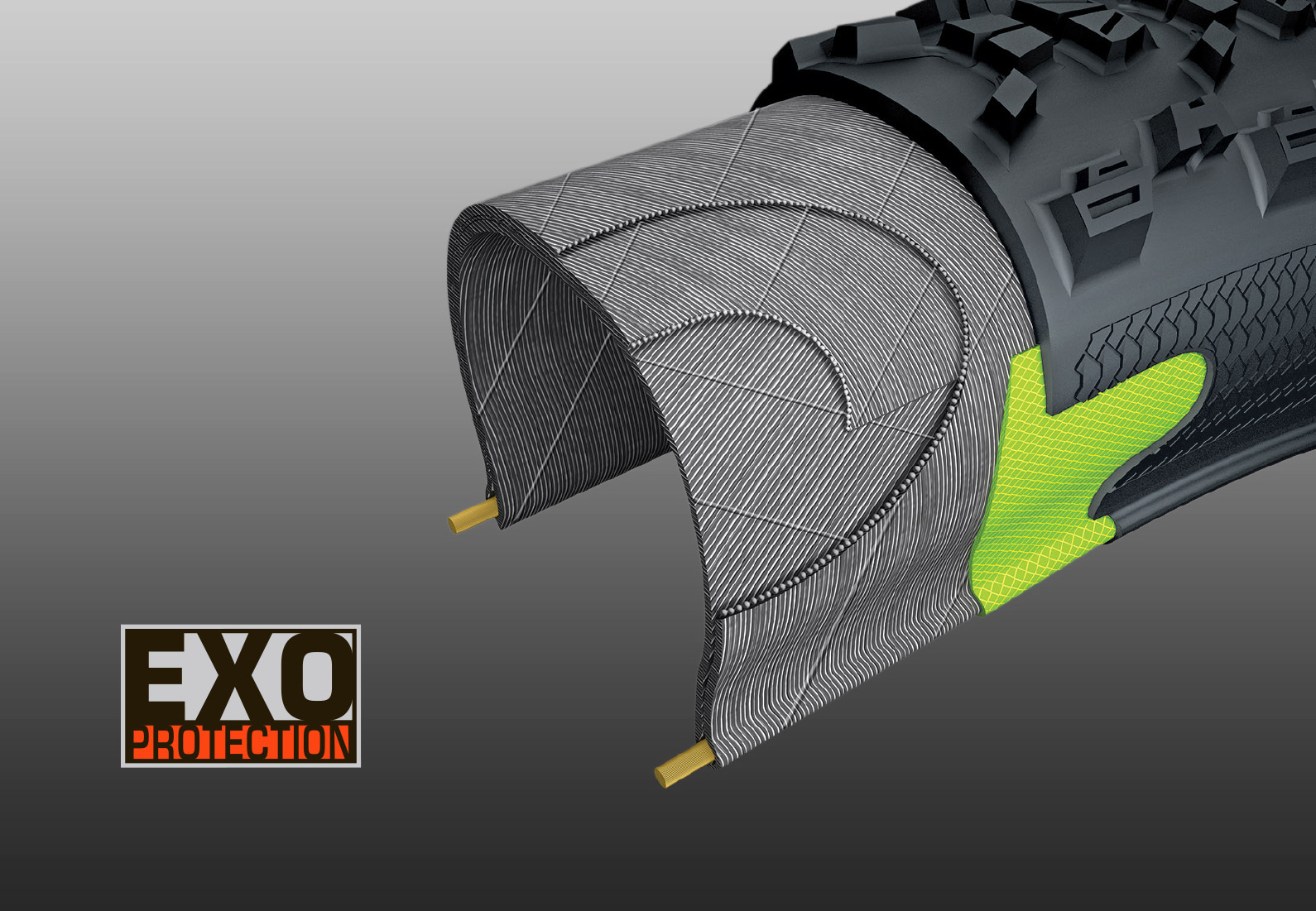 EXO Plus + - Combines two of the Maxxis puncture protection materials: SilkShield and EXO. This is a brand new technology as of 2019. The SilkShield layer runs from bead-to-bead with a layer of EXO along the sidewalls. Combined, these two materials create EXO+ which gives a 27% increase in puncture protection under the tread, a 51% increase in sidewall durability and a 28% increase in resistance to pinch flats when compared to the regular EXO Protection. There is a small weight penalty of around 70g per tire.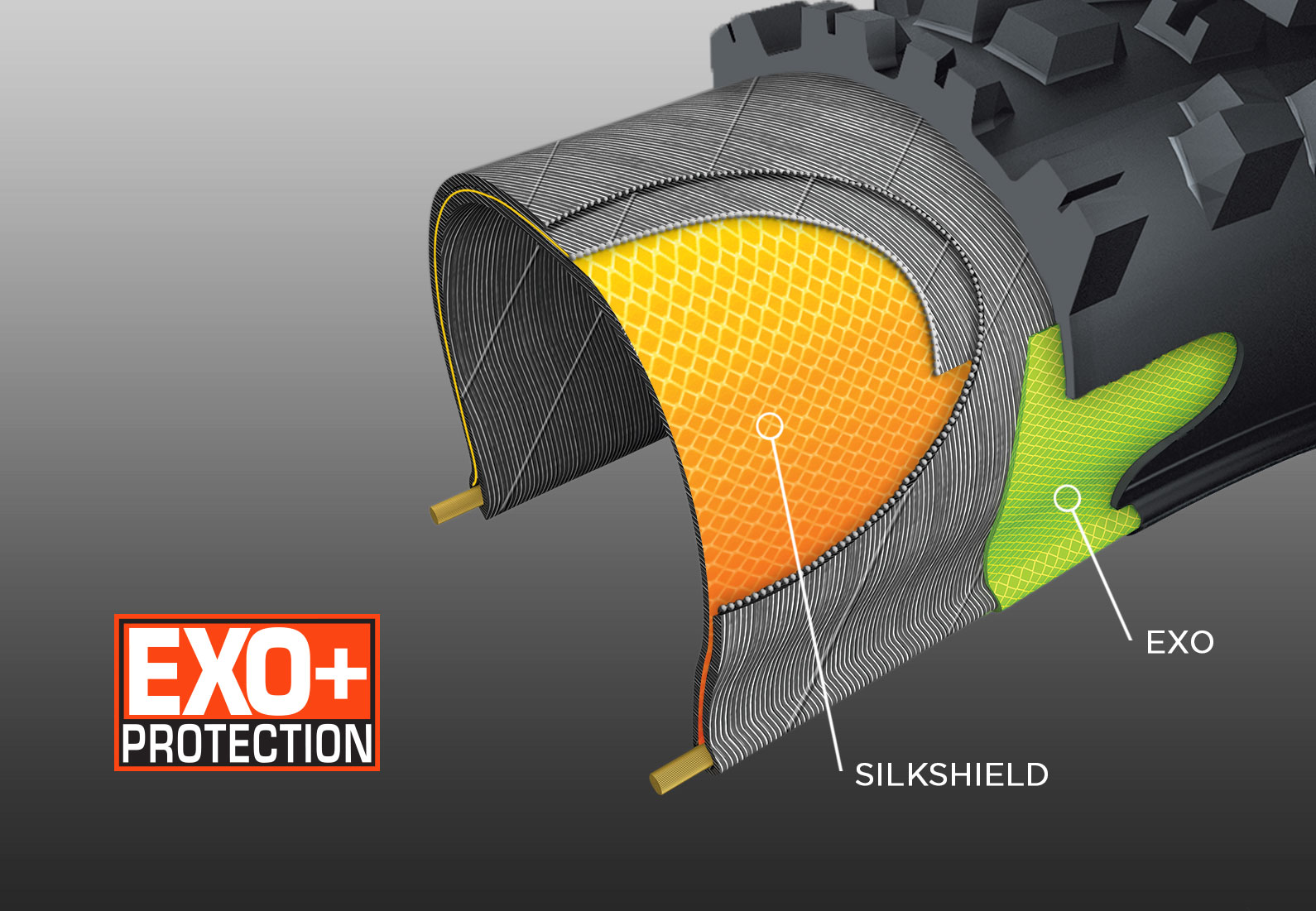 Double Down - DD - Is the next step in the evolution of the dual-ply tire casing for enduro racing. Designed specifically for enduro and heavy duty all mountain riders. It features 2 x 120TPI layers to give both great strength and puncture/abrasion resistance, but the casing still conforms to the terrain very well. This also has a Butyl rubber insert that stretches from the bead up the sidewall to offer ultimate pinch flat resistance.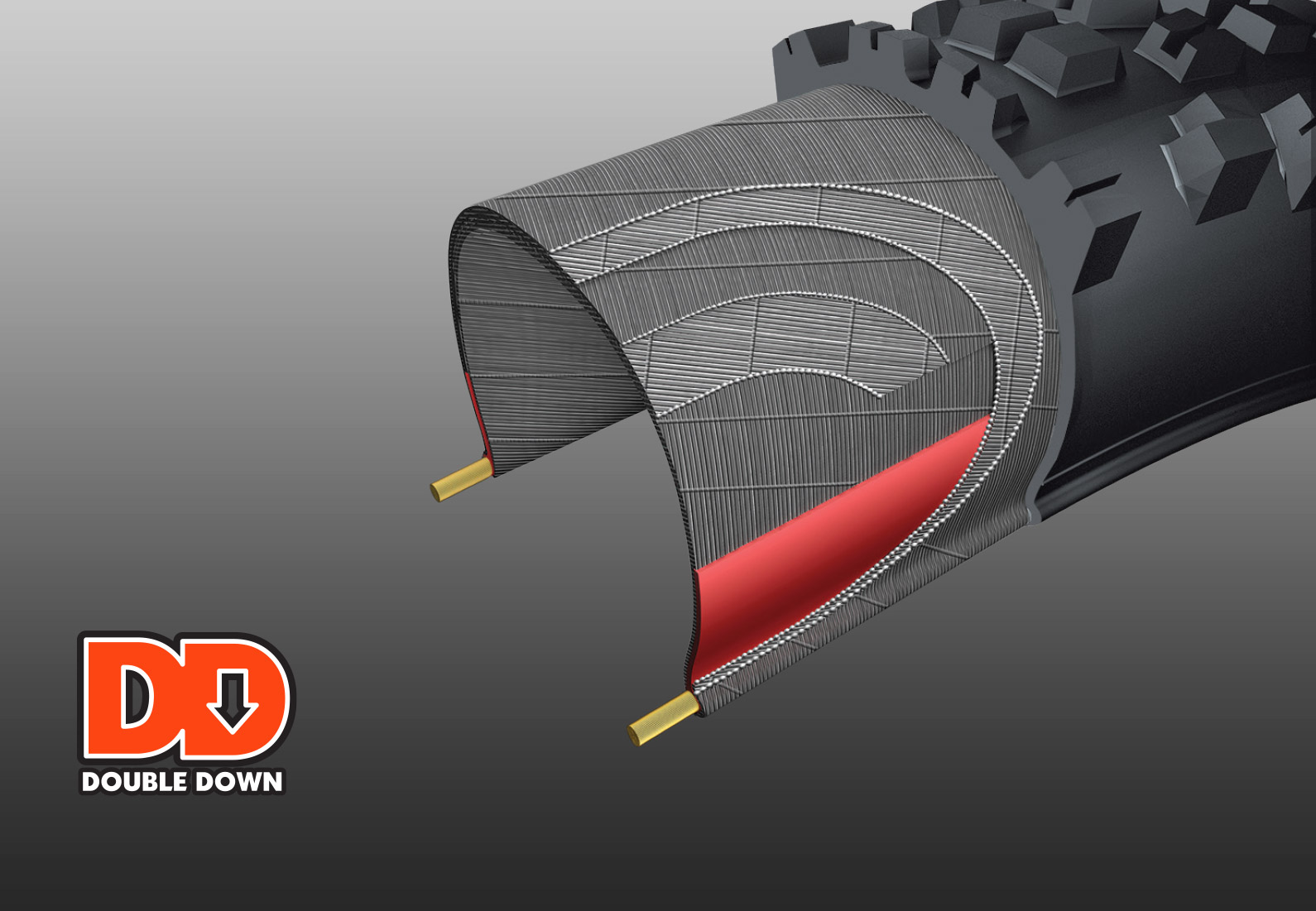 Dual Ply - Also known as Downhill casing, this is 2 x 60TPI layers. It also has a Butyl insert stretching from the bead up the sidewall. This makes a huge difference in pinch flat protection, while also supporting the sidewall of the tire.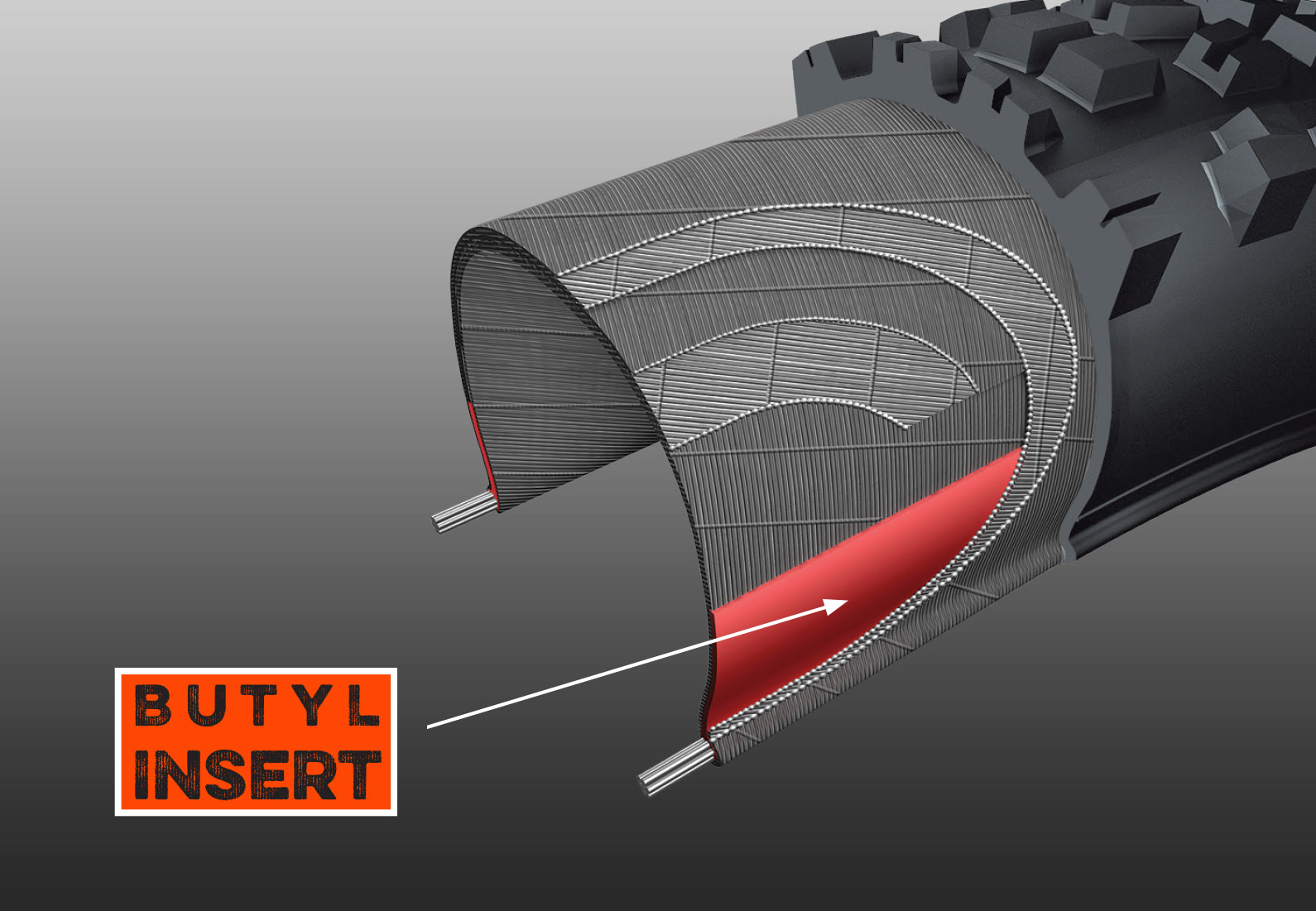 Silkworm - While this isn't a casing tire in its own right, it can be added into a casing. Silkworm is an additional layer that is only located under the tread of the tire. It is there to stop spikes, thorns or sharp rocks from penetrating through the tread.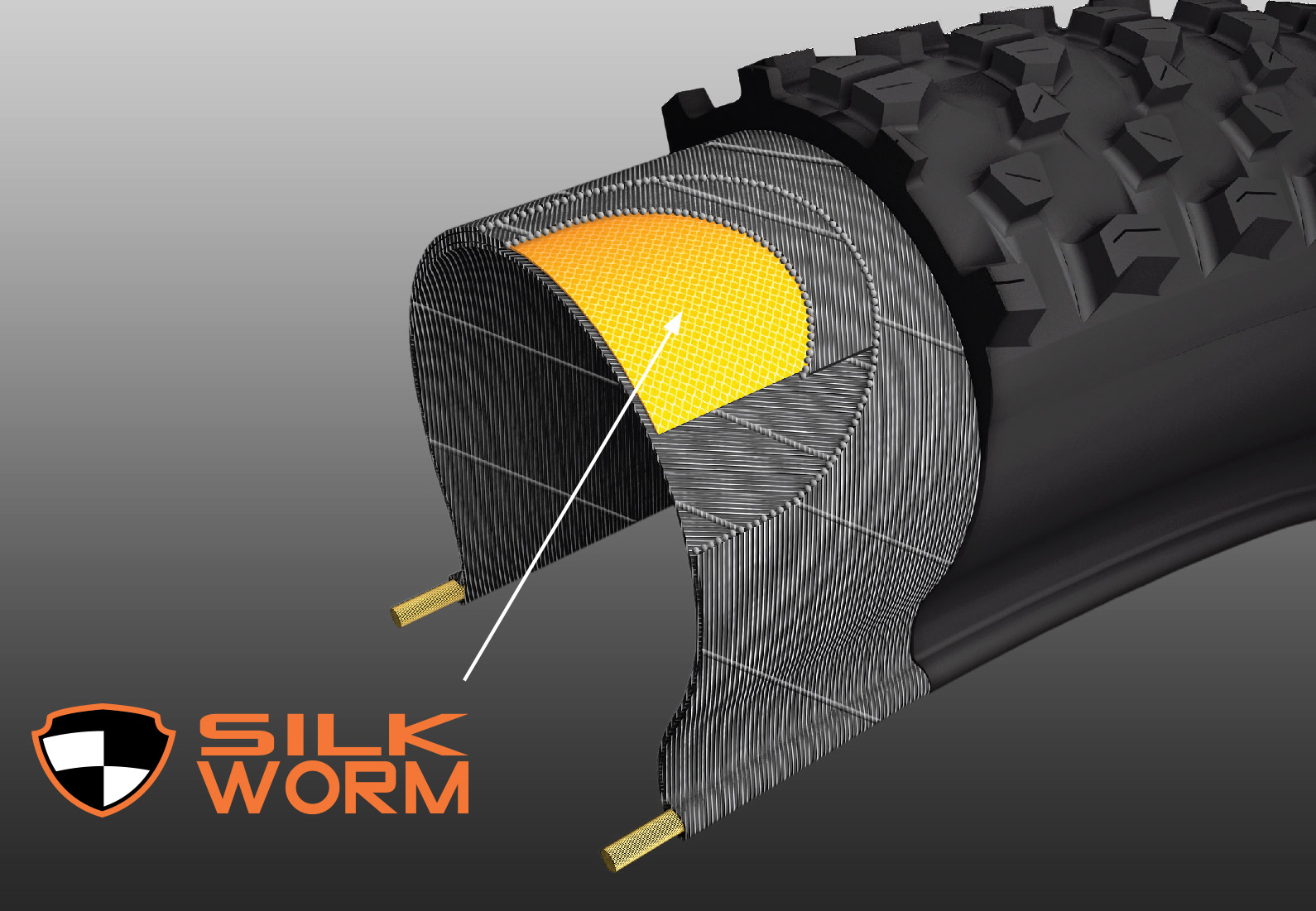 Tread Compound
Tread compound refers to the durometer (softness) of the tire. Durometer is symbolized with an "a" and the lower the number, the softer the rubber compound. Maxxis make a lot of different tread compounds, and they use either single, dual and triple compounds of rubber:
Single Compound – The same compound the whole way over the tire tread.
Dual Compound – This is when the side knobs are made of a softer rubber for better cornering grip, and the centre knobs are a harder compound for better wear life and lower rolling resistance
Triple Compound – Also known as 3C, this is when the base of the knobs are a firm rubber so the knobs hold their shape better, then the side knobs are covered in a soft compound for ultimate cornering grip, and a medium compound is used over the centre tread to lower rolling resistance and improve longevity. Maxxis make 3 different 3C compounds (outlined below).
From hardest to softest tread compound, Maxxis produce:
Single Compound - One compound throughout the tread optimised for longevity and performance.
MaxxPro - A 60a rubber predominately used as a long life gravity bike tire.
Dual Compound - 51a/60a - A 51a rubber compound on the side knobs with a 60a rubber on the centre knobs.
3C Maxx Speed - Used primarily in cross country and enduro tires, the two compounds in the outer layer are specially formulated to reduce rolling resistance and optimize treadwear and traction.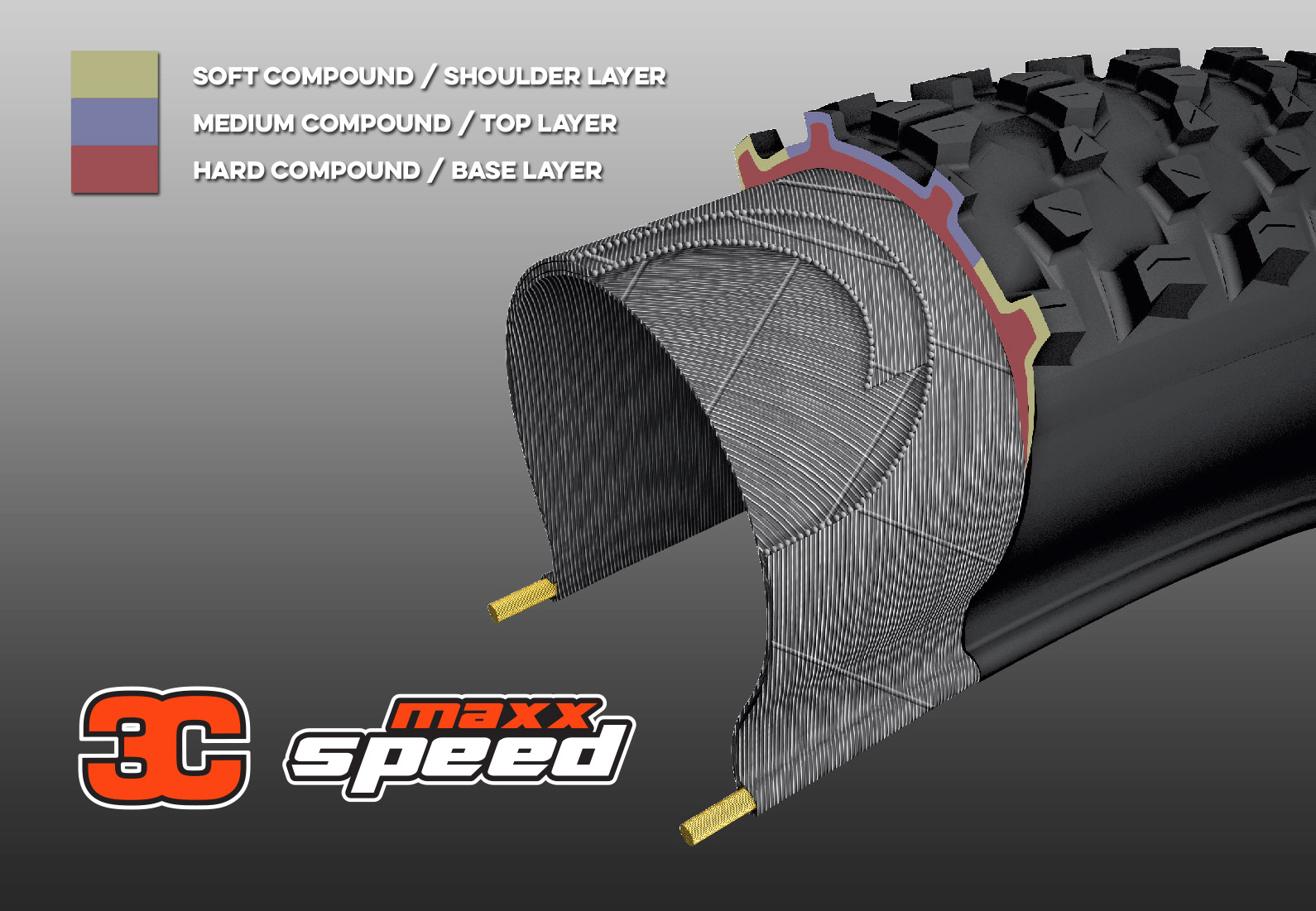 3C Maxx Terra - An intermediate compound configuration used in select mountain tires. 3C MaxxTerra is softer and offers more traction than 3C MaxxSpeed, yet provides better tredwear and less rolling resistance than MaxxGrip. One of our most popular selling tire compounds.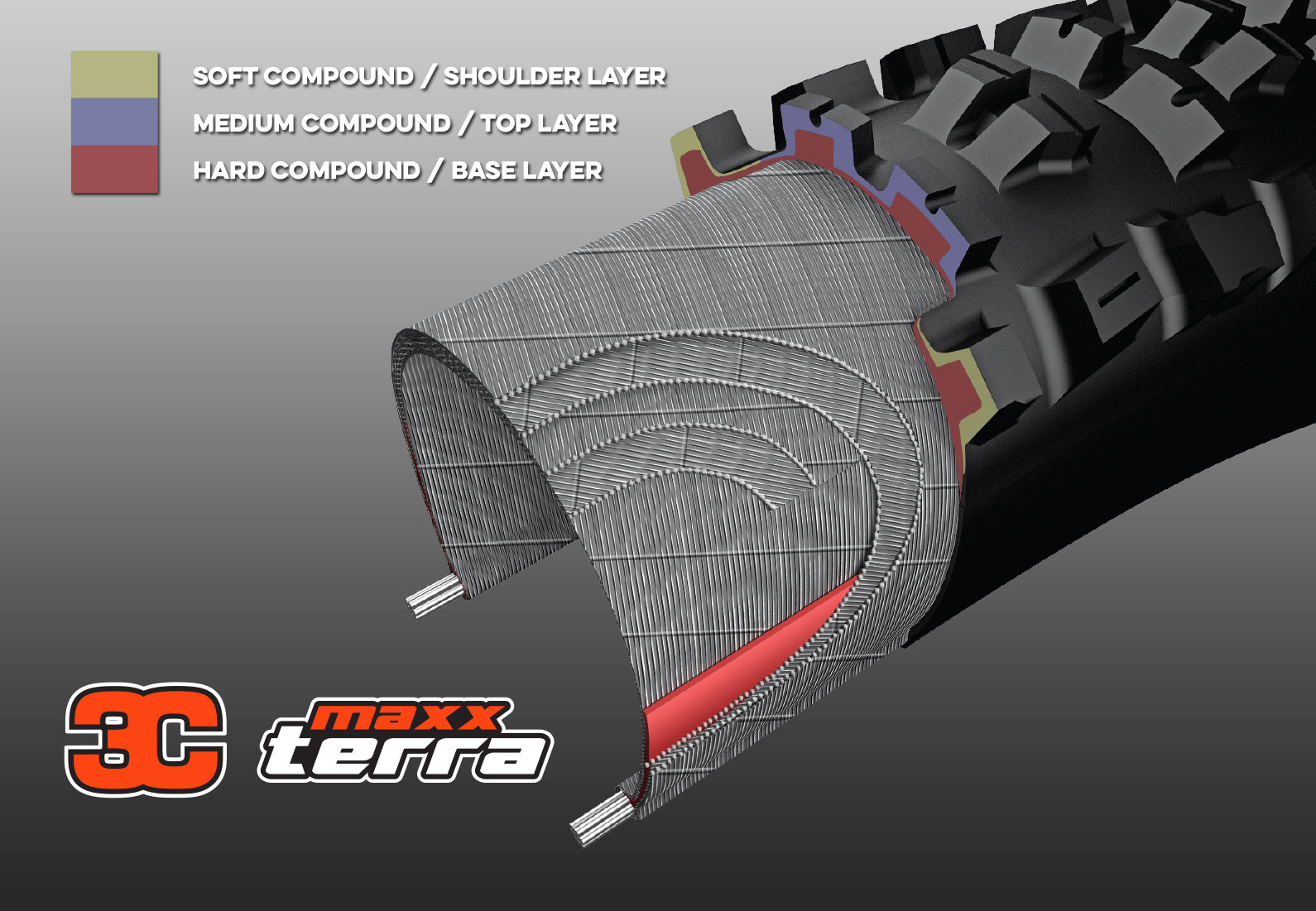 3C Maxx Grip - 3C MaxxGrip uses the softest rubber compounds to offer the ultimate in grip and slow rebound properties for unparalleled traction in downhill applications. The ultimate grip on gravity-focused bikes.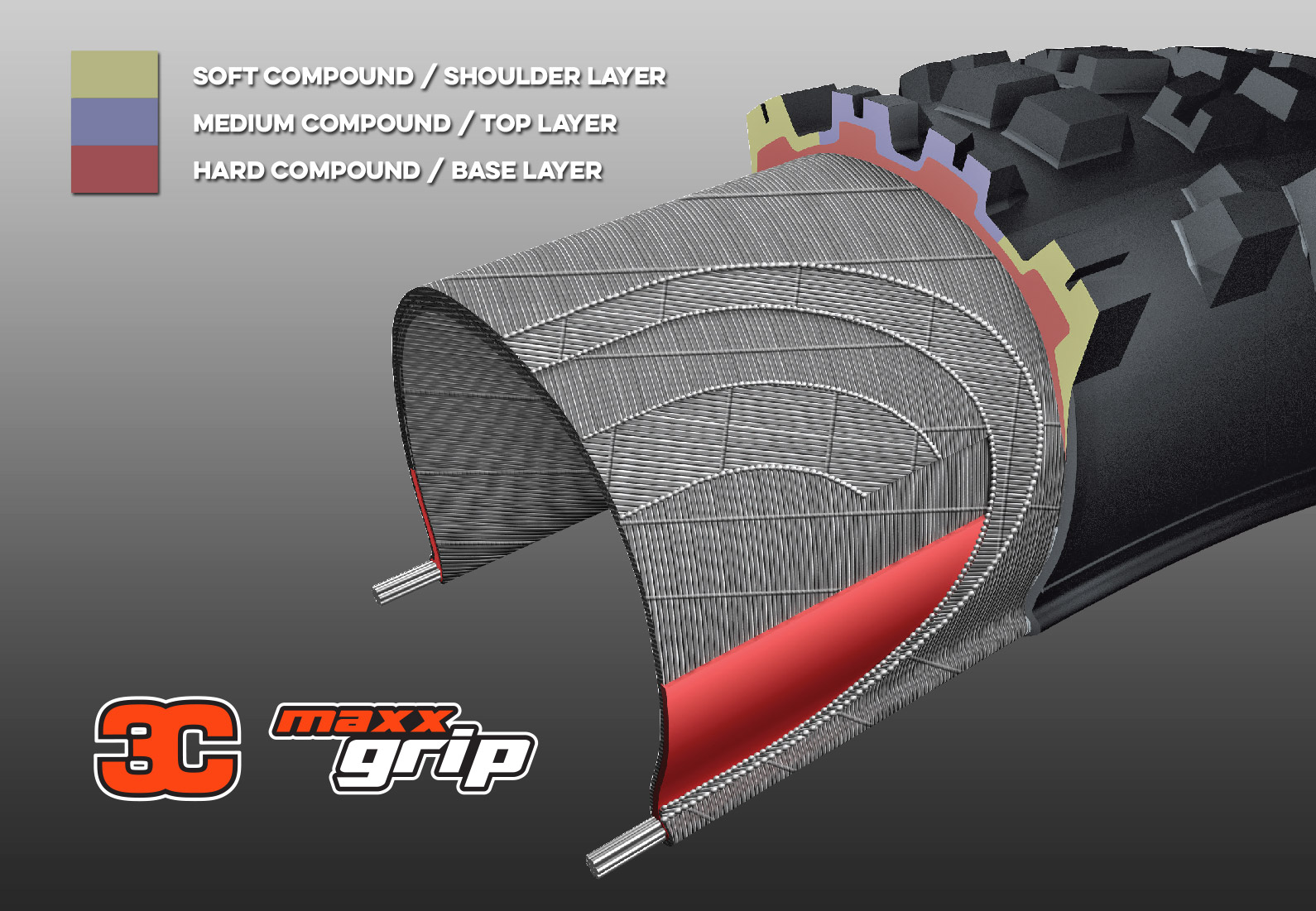 Super Tacky - 42a rubber all over - largely found on downhill and gravity focused bikes. This is a very soft, slow rebounding rubber. While it doesn't provide the precise feel of the 3C Maxx Grip, it is still a very grippy tyre.
Wide Trail
Maxxis have also just released a new range of tires that are specifically designed to fit on to rims with a width of 30mm or more. Wide Trail (WT) construction optimizes the tire's tread layout and profile on today's modern, wider rims. Traditional tires are designed around older, narrower rims and can create an overly square tire profile, leading to less than optimal performance. WT tires are optimized for a 35mm inner rim width but are proven to work over a range from 30-35mm inner rim widths, depending on the rider's preference. The benefits of these Wide Trail tires on width rims is that the cornering knobs are better supported and sit slightly closer to the centre line. A lot of our customers run the WT tires on a rim that is less than 30mm wide, so it isn't a set in stone measurement you have to follow.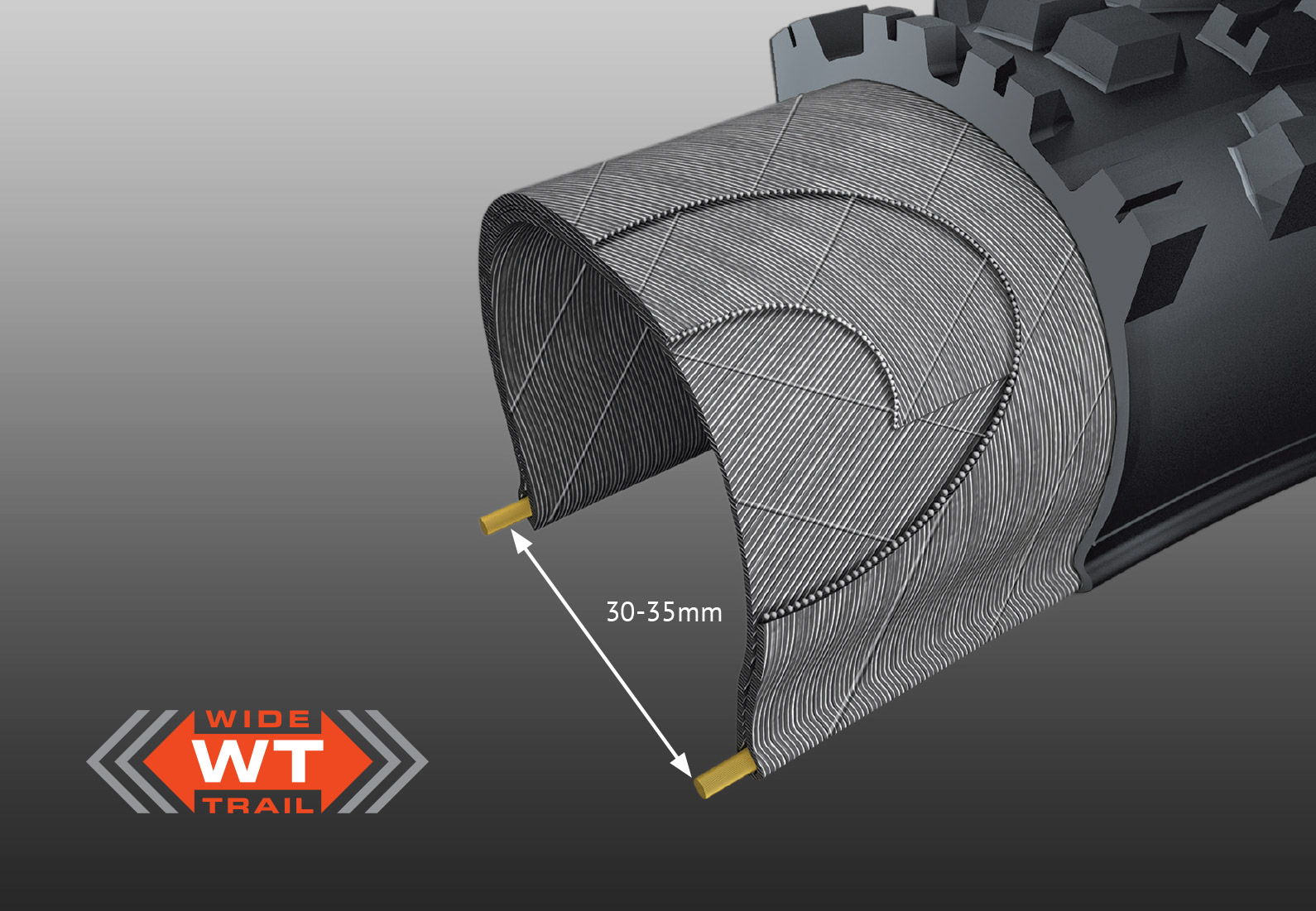 If you need any further information you can check out all the technologies on the Maxxis website.
Shop all the Maxxis tires here.
By far our most popular tire we sell is the Maxxis Minion DHF 27.5 x 2.5" 3C and the Maxxis Minion DHR II 27.5 x 2.4 3C.
A lot of our customers have asked us to stock more DH tires and we feel the new Maxxis Assegai tire is the best downhill tire on the market. Available in both 27.5" and 29er options.