Alloy vs. Composite MTB Pedals – What's the Difference?
Most of the mountain bike flat pedals on the market are primarily made of either alloy or composite. Besides the obvious difference of what they are made of, we are going to go over some of the other differences between these two types of pedals, and some of the advantages and disadvantages that come with each.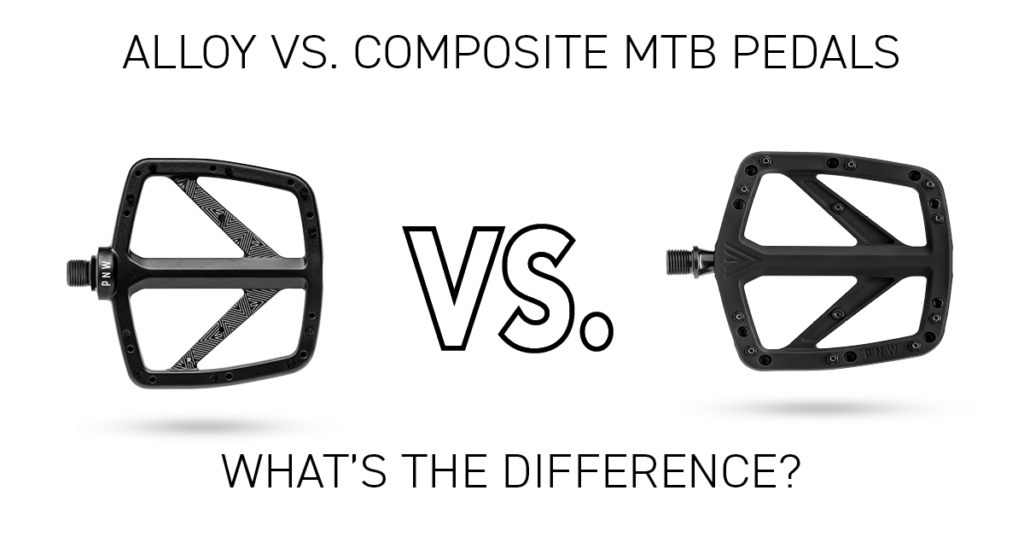 Alloy Pedals
Aluminum (alloy) pedals have been the go to pedal for most mountain bikers over the years due to their durability, great look, and feel. Alloy pedals have also improved alot over the years, specifically with the pins. Older alloy pedals used to have molded grooves and have a bear-trap look to them, resulting in minimal grip. Especially in wet weather. With advanced technology and innovation there has been alot of work to improve the pins shape and placement resulting in much better grip. They are considerably better than the old bear-trap style, are CNC machined, and oftentimes have removable and adjustable traction pins. The below picture is a great comparison to show how far alloy pedals have come over the years.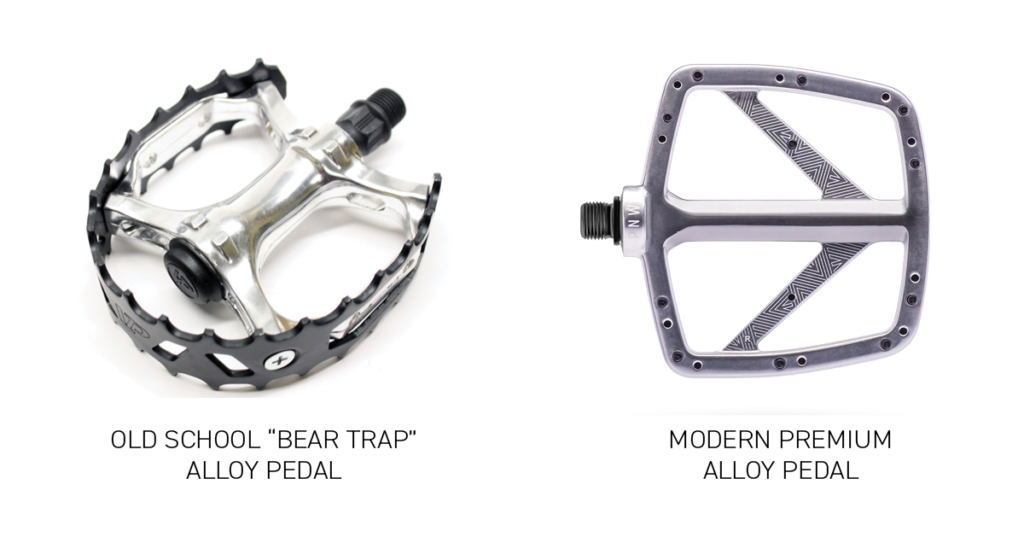 Advantages
Looks - Alloy pedals no doubt look better than composite pedals as they have a much cleaner look and finish to them.
Thinness - Alloy pedals are almost always going to be thinner than composite pedals due to the stronger material. This means less rock strikes as there is less area to hit. It may not seem like much but it can make a difference when constantly riding near rocks and other obstacles.
Disadvantages
Price - Alloy pedals can be two to three times more expensive than composite pedals.
Composite Pedals
Composite pedals have come a long way over the years from the all-plastic unsealed bearings that are made with a single plastic mold. These old-school composite pedals are probably what you grew up riding with as a kid and are not suitable for mountain biking. The good news is that composite pedals on the market these days are much better as technology has come a long way over the years to make them a comparable alternative to their alloy counterparts. The below picture is a great comparison to show how much composite pedals have advanced over the years.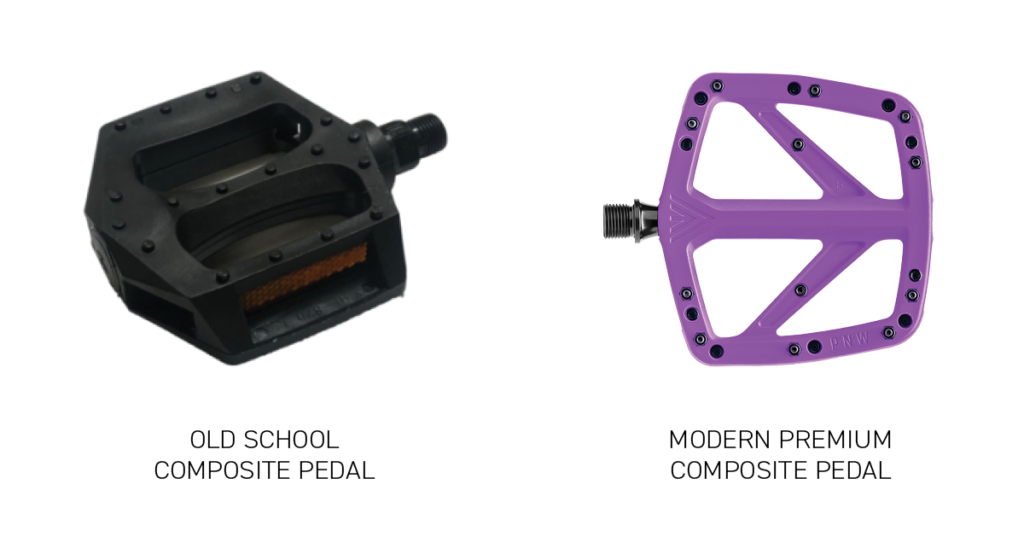 The premium composite pedals now on the market are very solid and have a very similar feel to alloy. They also have metal pins that can be adjusted and replaced giving them just as much grip as alloy pedals. Oftentimes, companies will make a composite copy of their alloy pedals, which will usually feature the same serviceable bearings as well.
Advantages
Price - Composite pedals are much cheaper than alloy and usually come in at a fraction of the cost. An example would be the PNW Range Composite pedals that we carry that come in at $62.95. This is a much better price compared to the PNW Loam Alloy pedals we carry that sell for $128.
Lightweight - Almost all composite pedals will be lighter than alloy pedals and for those who care about weight savings it makes a difference.
Disadvantages
Thickness - Composite pedals are usually thicker than alloy pedals.
Looks - Composite pedals don't quite have that same clean look and finish that alloy pedals have.
Our Take
If you are on a budget looking for a solid set of pedals, then go with composite. The value is great, has lots of grip, and will last multiple riding seasons if taken care of properly. However, if you have money to spend and a larger budget, then alloy pedals would be the best option. They definitely have that premium look and feel, provide tons of grip, and have a nice thinner profile. Composite pedals are solid and durable, but when it comes to hard hits by rocks and other debris, the alloy are stronger and will last longer at the end of the day.
---
We offer multiple options for metal and composite flat pedals and you can shop our full selection of pedals here.
Remember, we offer free shipping on all orders over $149CAD. Spend less and ride the best with TBS Bike Parts.
MORE COMPARISON ARTICLES
MaxxGrip VS. MaxxTerra – What's the difference?
Maxxis EXO vs. EXO+ – What's the difference?
Maxxis Doubledown vs. DH Casing – What's the difference?