Schwalbe Compounds and Casings Overview
We all know that picking the right mountain bike tire can be a daunting task, with so many different compounds, tread patterns, and casing options to choose from. Schwalbe has recently been trying to simplify this process by releasing five new casing options, with the names being relatively self-explanatory: Super Downhill, Super Gravity, Super Trail, Super Ground, and Super Race. Super Race and Super Ground focus more on cross-country, while the Trail, Gravity, and Downhill casings are heavier duty and designed with more sidewall support for increased protection against flats. Below is a short overview of each casing.

 Schwalbe Casings
Snakeskin
A light and flexible carcass makes the tire highly resistant to scrubbing. (As of 2021, Snakeskin is being phased out in Schwalbe's line for many of their MTB tires, as it becomes incorporated in the other casings outlined below)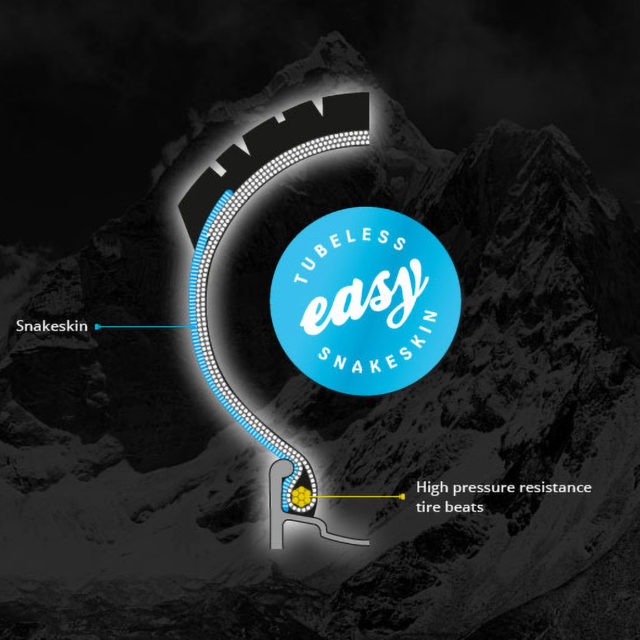 ---
Super Downhill
For the bravest and most aggressive. For those for whom no jump is too big, no descent too steep and no obstacle too large. Made for the Downhill World Cup. Super Downhill stands for uncompromising stability and performance like no other construction. The burliest option in the lineup, this casing has six carcass layers, two layers of Apex puncture protection at the sidewall, plus Snakeskin fabric for even more puncture protection. It's also tubeless ready with a Kevlar bead.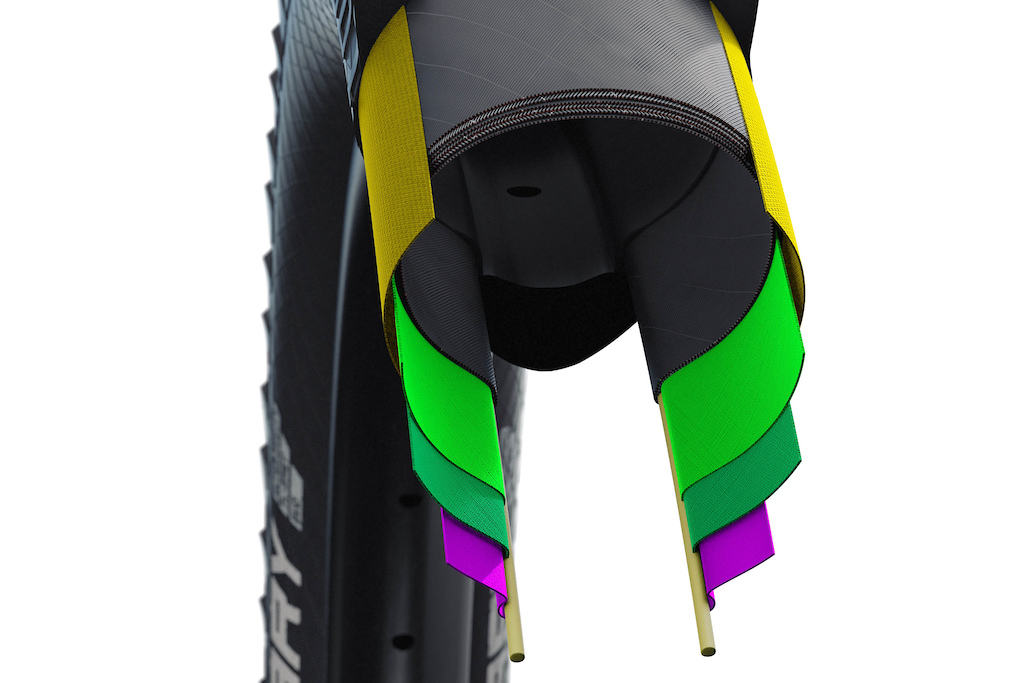 ---
Super Gravity
Go where others dare not to venture. Where the rider and the trail demand everything from the material. Where the bikes have a lot of travel. Right there is the zone for tires with Super Gravity construction. Designed for DH and enduro use, the Super Gravity casing has four carcass layers, one layer of Apex sidewall protection, and a bead-to-bead Snakeskin fabric layer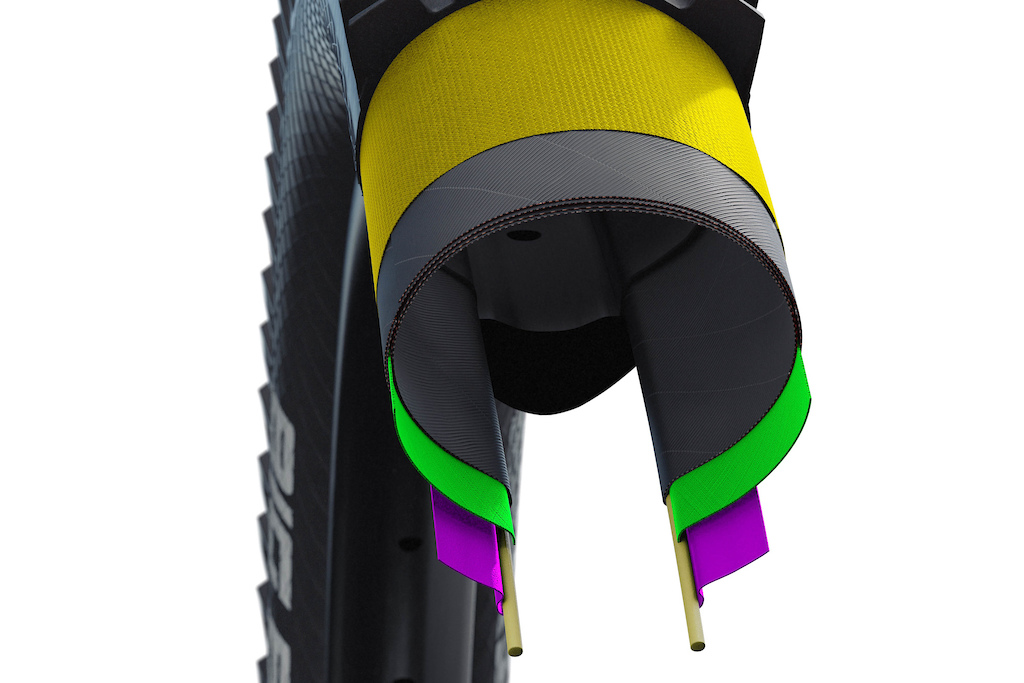 ---
Super Trail
As versatile as a multi-tool: a stable construction, with a range of applications from intense all-mountain and trail rides to enduro use. Ideal for riders riding a medium-travel bike. Super Trail uses three carcass layers under the tread, and two on the sidewalls. There's also one layer of Apex sidewall protection, and a bead-to-bead Snakeskin fabric layer.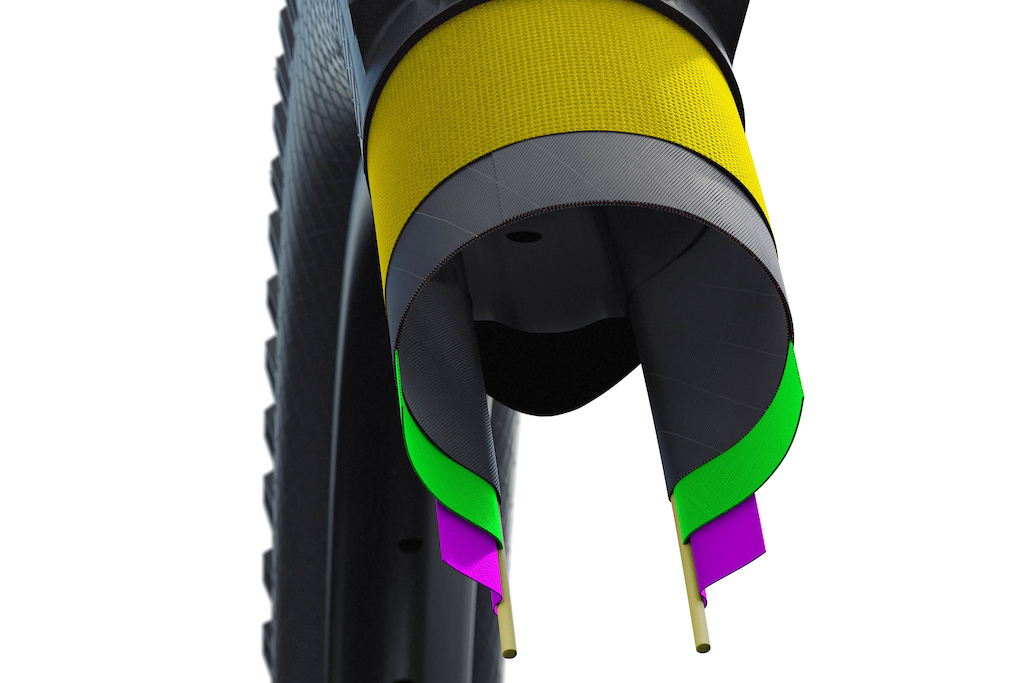 ---
Super Ground
Combines light weight and stability. Feels comfortable in any terrain. Balanced ratio of puncture protection and smooth rolling. For flowing trails, long rides and any terrain. The Super Ground casing has three carcass layers and a Snakeskin fabric layer.
---
Super Race
The Super Race casing has two carcass layers, with a strip of Raceguard puncture protection under the center of the tread.
The Raceguard belt was developed specially with racing in mind. A synthesis of special india rubber and several layers of nylon fabric offers very effective protection against penetration punctures. There is only a minimal increase in weight and rolling resistance of these tires.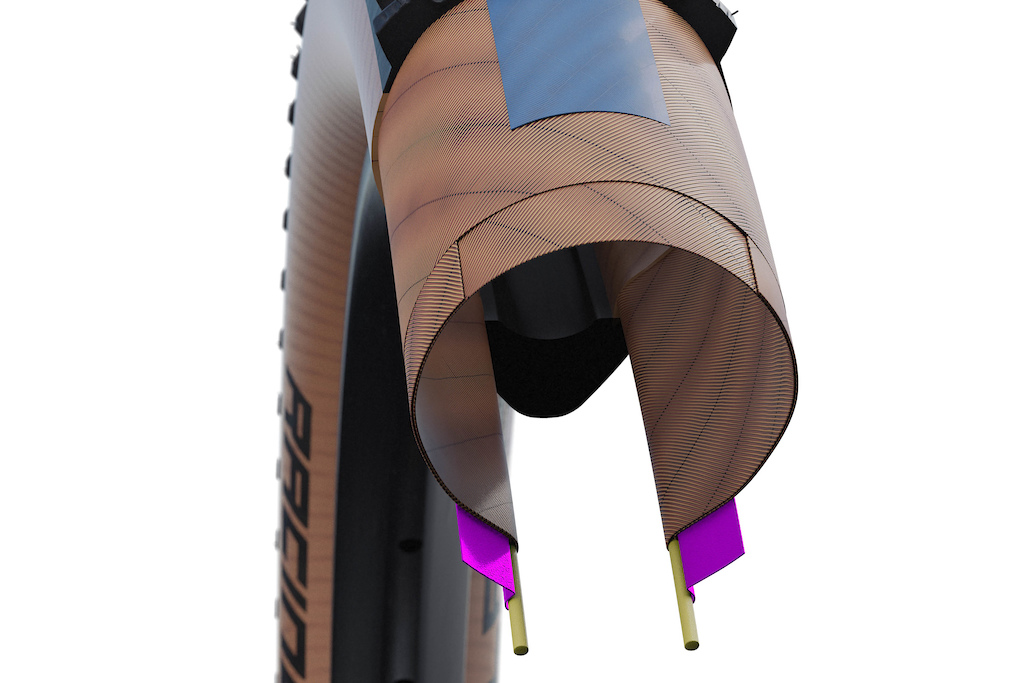 ---
Schwalbe Rubber Compounds
Addix Speed
The new Speed rubber compound is made for Cross Country race tires. The idea behind it was to increase the rider's speed and shave off precious seconds on the course.
Addix SpeedGrip
Addix Speedgrip has one huge advantage over the softer compounds. The blue-striped tires are a lot harder wearing and roll faster. If you typically only ride in good weather anyway, the Addix Speedgrip compound is a good option for longer lasting tires that'll go easy on your wallet. Up front, Addix Speedgrip is for skilled riders and those with a desire for endless gravel climbs only.
Addix Soft
The Addix Soft triple compound is Schwalbe's universal blend and performs well on almost any bike. It offers a good compromise between grip and rolling resistance on an Enduro bike for both the front and rear wheels, and it makes for a grippy front tire on a Trail bike. Incidentally, the rolling resistance is comparable to MAXXIS' 3C MaxxTerra compound. If you want a compound with which you'll be able to enjoy the trails all year round in all conditions, Schwalbe's orange-striped tire is a good choice. Whether on the front or the rear: Addix Soft always works well.
Addix Ultrasoft
The downhillers darling: the purple-striped Addix Ultra Soft is the softest rubber compound and is primarily used for Schwalbe's downhill tires. It is also available on some Super Gravity tires, where it is ideally suited as a front tire on an Enduro bike. In terms of grip, it's hard to beat in the wet, but the rolling resistance is correspondingly high. An Addix Ultra Soft tire on the rear of your bike will quickly drain your legs and the tread won't last long either.
We hope this overview helps you better understand Schwalbe's casings and compounds so that you can feel confident in your tire choice. To shop our full selection of Schwalbe tires, click here!
Remember we offer free shipping on all orders over $149CAD! Spend less and ride the best with TBS Bike Parts!